A reported 63% to 34% victory by Mahmoud Ahmadinejad has sparked turmoil and rioting within Iran: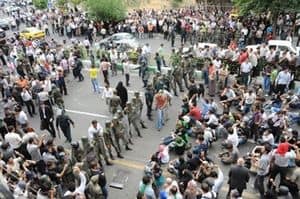 "Tonight riot police in Tehran faced thousands of angry demonstratorsshouting 'death to dictatorship' amid shock and confusion after theofficial result backed Ahmadinejad's claim to have won, made barely anhour after the polls closed on Friday night. The moderate MirHossein Mousavi, who had been widely expected to beat the controversialincumbent if there was a high turnout – or at least do well enough totrigger a second round – insisted he was the victor and appealedagainst the result to Ayatollah Ali Khamenei, Iran's supreme leader. 'Ipersonally strongly protest the many obvious violations and I'm warningI will not surrender to this dangerous charade,' said Mousavi, a formerprime minister. 'The result will jeopardise the pillars of the Islamicrepublic and establish tyranny.'"
Report: "It really is feeling like a coup."
World remains cautious: "Ahmadinejad's announced landslide victory over his reformistopponent, Mir Hossein Mousavi, in a tumultuous election marred byallegations of widespread fraud, 'will increase American pressure' toengage Iran diplomatically, said Eyal Zisser, an analyst with the TelAviv-based Moshe Dayan Center. Alluding to opposition allegationsthat the outcome was rigged, and clashes that erupted across Iran afterAhmadinejad's government declared him the victor, U.S. Secretary ofState Hillary Rodham Clinton said she hoped the outcome reflects the 'genuine will and desire' of Iranian voters."
Watch videos of the rioting, AFTER THE JUMP…
More updates to the rioting HERE.