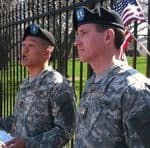 Lt. Dan Choi and Capt. Jim Pietrangelo II, the gay Army officers arrested March 18 and April 20 for handcuffing themselves to the gate around the White House, will go on trial July 14 for two counts of failure to obey a lawful order stemming from protest actions.
If found guilty, they could each pay up to $1,000 as a fine.
The Washington Blade has an interview with Choi, who explains his reasons for his actions and says he isn't concerned with any punishment he receives (jail is unlikely):
"To be able to stand up and get punished and to continue to sacrifice in a visible way is a badge of honor on behalf of those people who have not yet been able to do the bare minimum of their steps toward gaining dignity—and that is coming out."
President Obama was recently subpoenaed as a witness but is not expected to be compelled to appear in court.