When Costa Rican President Laura Chinchilla was elected in February 2010 she was adamant about her belief in "traditional" marriage, but clarified those remarks this week by saying she would not oppose a court ruling legalizing same-sex marriage.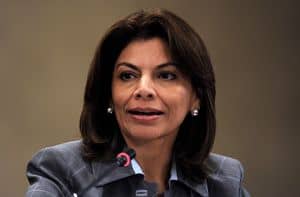 The Tico Times reports:
Two gay couples, as part of the Diversity Movement, asked a Costa Rican court Monday to be married in a civil union, drawing attention to the issue.
Chinchilla made the statement during the last day of her visit to California, as part of a 6-day visit to the United States. The Latin American leader noted during her campaign for president in 2009 that she was a supporter of traditional marriage. She maintains that belief. However, she qualified the issue by saying that if a Costa Rican court allowed gay couples to marry, Chinchilla would not oppose the decision.
"There are complex issues that require us to prioritize, such as employment or security," Chinchilla said. "Obviously, if there is a decision of a court of law, we could not object to it."
Previously…
New Costa Rican President Wants to Protect Marriage from Gays [tr]