SP: How soon until you think the views on gays by someone like former New York Giant David Tyree become the uncommon one in the sports world?
JM: "I honestly already believe it is the uncommon one. At least from a public speaking standpoint. These guys can have their own thoughts but we all have our own thoughts. I don't know what is the unpopular thing. It used to be that you were the guy who used to hang around with bunch of teenagers and stuff and say this gay guy this and that then 'hey, ha ha.' It was just funny. Everyone wants to join in on it. If you're that guy that does it now, in light of what's gone on say in the last month or so between Kobe Bryant, Joakim Noah, the NBA coming down very hard on this, Major League Baseball doing the same thing with Roger McDowell yelling at these guys in San Francisco, you're now the real jerk, the real bigot, if you're the guy throwing certain words around. I think so. Maybe that's wishful thinking. I'm in New York city, I'm not in middle America."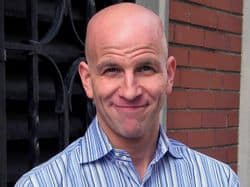 SP: Do you think we're on the fast-track to seeing an openly gay male professional athlete?
JM: "I have no idea. I do hope and would think that whoever is going to be the first is going to be that guy that my actions, that of Will Sheridan, Rick Welts and the support of straight guys in sports that that will have a role for them the same way that the people who came out before I did had a big role for me. How soon? I don't know. I'd say where we're at right now – within 18 months definitely wouldn't surprise me. If it's a superstar athlete…if one of those guys came out and said it, what do you do? This guy's got the support of everybody in the league already. What are you gonna do, shoot arrows all of a sudden at one of the guys who's one of the most popular people in the sport? I think it could be coming soon. Who knows? if it's a superstar athlete, if it's a real superstar, it definitely makes it a lot easier for others to follow."
Max told me about an encounter he had with openly lesbian tennis star Martina Navratilova at a gay bar when he was a closeted man in his twenties. That story is here:
JM: "Maybe about 10 years ago or so I was in Philadelphia at one of the famous bars called Woody's. I was there with a friend of mine. I was still pretty closeted at the time. Maybe just a few people knew about me and I turn around and there's Martina Navratilova. I went up and said hello to Martina and I said something like 'you're a real inspiration and thanks for being a great inspiration and roll model.' But how could she have been a real inspiration to me if I was too pussy to come out? I thought about that for many years because what I was really trying to say to Martina was 'hey I really applaud you. I wish I had the balls to do what you did.' And I also thought 'I would never have any interest in doing what you did either.'"
Towards the end of our talk, Max told me about the depression he went through in college when he thought about the challenges he would face if he were to pursue his dream as a radio sportscaster as an openly gay man – something that kept him in the closet for years.
JM: "I was in college, I went through a couple of years of just terrible, terrible depression in my sophomore, junior into my senior year. I'd laid out a foundation for a career as a sportscaster really well. I knew some of the giants in the business who had already become mentors to me. I'd done a lot of work already at a young age. I'd laid out all these great things and I was ready to go. All of a sudden where all of the depression came from, and I didn't realize it until years later, it was basically me believing that I could not live the life that I had mapped out for myself because how could I if I'm gay? I came to realize I'm gay. This isn't just a passing thing. I always thought even if I did it, 'I thought oh my God, I'm gonna be some pioneer or something? I don't ever want to be that. That's not me! I don't ever want to be the gay sportscaster.' Well, you know what? I guess at some point everything came to be. All right, so this is how it is? Cool. Wait, I actually get to help people? Awesome. The irony there, and there's definitely good irony there, because of what I was so scared of, I've come to embrace."