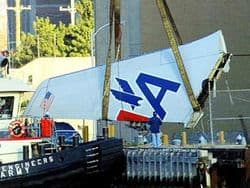 It's ten years to the day since American Airlines Flight 587 crashed in Queens, New York. It's hard to remember now, but at the time, just two months after 9/11, when nerves were still raw screaming things and panic was just a boom away, most of us wondered: Is it happening again?

A trenchant story at ABC.com today vividly recalls that feeling, and offers a reminder: Though "It" wasn't happening again, what did happen was more than bad enough. The story at ABC introduces us to several of Flight 587's bereaved, beginning with a man who lost his male lover — a lede that would have been unimaginable in a mainstream media story just ten years ago.
… By late afternoon, authorities were saying the crash of American Airlines Flight 587 looked like an accident, not terrorism. The country breathed a sigh of relief. The horror and grief lingered longer for the loved ones of the 265 dead. Even after a decade, sadness lives on for people like William Valentine, whose partner and lover of 20 years, Joe Lopes, died on the flight.

"I don't think an hour goes by," he said, suppressing a sob, "when I'm not thinking of Joe in some way."
Today, William and the others left behind by Flight 587's casualties gathered in the Rockaways to pay their respects. A bell tolled at 9:15, the time of the crash, and then there was a moment of quiet.