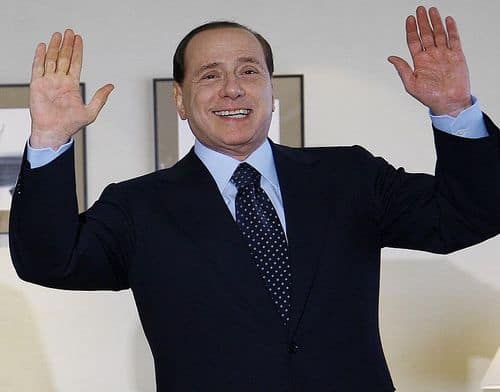 Farewell, Berlusconi! What a long, ridiculous trip it's been!
An impromptu orchestra and choir gathered outside the presidential palace, where Mr. Berlusconi resigned, playing the "Hallelujah" chorus from Handel's "Messiah."

Hundreds of spectators gathered outside, shouting "buffoon" and "go home" to a polarizing leader once loved by many, making Mr. Berlusconi the very embodiment of the Italian saying that the tenor is applauded until he is booed off stage. Some in the crowd were popping bottles of champagne. And cars and mopeds in downtown Rome waved Italian flags and honked their horns in celebration, as they do when the national soccer team wins.

… Fulvia Roscini, 47, a nurse, had brought her 8-year-old son and 13-year-old daughter outside the prime minister's office on Saturday evening. "We came here because I wanted my kids to see this," she said, "to see that another country is possible and is already here."

The powerful bromance of Silvio Berlusconi and Vladimir Putin.
'Sup, Silvio,

I'm sure you are feeling worse than a dying elk today. And I know that

hanging at my birthday party

helped cheer you up during that whole mess with the 17-year-old. So I decided to put a little something together for you. It's a photo gallery of us. I wrote down memories with each photo, like they do on Facebook. I hope it brings you happiness.

Speaking of which, does Vladimir Putin remind you of sex? He will.
"Ex-gay" academia falls deeper into disrepute.

The Times live-blogging of the ramblingest, most disorganized Republican debate yet …

… which was sponsored, in part, by white nationalists.

Bill O'Reilly's book about Lincoln banned from Ford Theatre.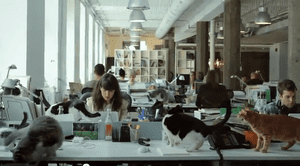 No doubt about it: Catvertising is the next big thing.

Gorgeous! Astounding! "Beat It" played by 15-year-old Korean guitar whizz.

 These footballers have scannable skulls.

Barney's goes Gagadelic.

Confession: "But after nearly four decades on earth, I have managed to miss out on one of the most essential components of human nature: romantic love."

If you heard the leaked Madonna single, guess what? You're not a true fan.

Kylie Minogue to release package of greatest hits with orchestral acompaniment. Live industry preview AFTER THE JUMP! [HT: Oh No They Didn't]