There is reason to believe that coming out as HIV-positive would be a great boon to acceptance of HIV-positive Americans. In addition to all the benefits discussed above — concretizing discrimination, turning esoteric concepts into real world examples — coming out as HIV-positive is necessary for any otherwise silent or hidden group to stand for its rights. Making coming out an essential part of a civil rights strategy, then, has social and political benefits.
If the example of the gay community is any indication, there are also substantial legal benefits. As much as we would like coming out to be the stuff of slow news days, the truth is that as long as conservatives insist on making our sexual orientation a basis of their hatred and discrimination, our coming out is a political act, entitled to protection under the First Amendment. 
Some members of the HIV-positive community challenge the comparison to the gay community. Being HIV positive is, if anything, more stigmatized than being gay and it always has. They argue it is still socially acceptable to ostracize people who are HIV-positive, whereas it is increasingly the stuff of the fringe to hate people just for being gay. They also argue that there is too little support for the HIV-positive community among the rest of the population.
Maybe that's true, but then it's only a matter of degree. Under this theory, there is nothing different about coming out as gay and coming out as HIV-positive other than the fact that, as gay persons, we have been coming out for longer. We have the benefit of 30 years of being out and proud during which time, the American people not only got used to us, but also started actively supporting our quest for equality.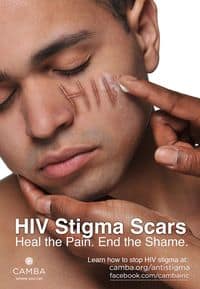 But, there is one way in which coming out as HIV-positive is significantly more problematic than coming out as gay. And, it is a product of the HIV/AIDS awareness movement itself. Public health organizations focusing on HIV/AIDS in America have recently been focusing on two goals: eliminating the stigma associated with being HIV positive and reducing infection rates among young men in the gay and other minority communities. Achieving these goals often requires us to educate the greater population about HIV transmission and amazing new medications that make living and thriving with HIV a long-term reality. At the same time, we have to target susceptible communities with reminders that HIV is still a burden. When that message is filtered through a media focused on sound bites and allergic to nuance, it could sound like a mixed message: HIV is bad, but not so bad that you should stigmatize those who have it. That's a delicate balance to maintain. In a world where we still have to persude young gay men that HIV is still something they should try to avoid, coming out as HIV positive will always be difficult.
At a minimum it is incumbent upon us — the gay community, lesbians, heterosexual allies — to support our brothers and sisters to make it easier to come out as HIV-positive. Just like we support the younger generation's desire to be out and proud in schools, we should support the similar desire of those who happen to be HIV-positive. Here are a few simple steps we can all take to do that:
1. End the stigma. The level of disrespect some members of the gay community have for members of the HIV-positive community is staggeringly upsetting. When I was in San Francisco last year, I conducted an informal (admittedly unscientific) survey of passersby in the Castro, asking them if an employer should be allowed to fire someone simply for having HIV. Ninety-seven percent of respondents — 319 out of 329 — said either "no" or "of course not" or some derivation thereof, with the few contrarians saying something about health care costs for small businesses. Yet, more than 60 respondents insisted on saying, unsolicited, that they were not HIV-positive. This should sound familiar: "I'm totally straight, but we shouldn't hit gay people." That helps no one. It suggests that we accept that being HIV positive is somehow something to be dismissed or denied.
2. Learn your history. An increasingly cavalier attitude toward unprotected sex is just one manifestation of the younger generation of gay men failing to appreciate what the generation(s) before us went through. Survive a Plague is an informative and well constructed documentary that teaches us about a particularly meaningful (and devastating) part of gay American history. The more younger gay persons understand where they came from, the more likely they will appreciate their indelible connection to their HIV-positive comrades. The team responsible for How to Survive should also make more of an effort to screen the film for university students and straight allies rather than preach to the choir.
3. Get tested. The best way to fight HIV stigma is to stop hiding. The only way we can do that is to get tested. Of the 1.1 million Americans estimated to have HIV, more than 20 percent don't know it. This kind of willful blindness is risky to sexual partners and to the community as a whole. 
4. Invest in the community. As my friend James Loduca, Vice President of the San Francisco AIDS Foundation (the country's largest AIDS services organization), told me, "An awareness day is great — in fact, I'd like 365 of them. You see, HIV stigma and shame are powerful foes, and it's going to take a lot more than awareness to overcome them once and for all. We must invest heavily in programs that increase self-esteem, community connectedness and resilience while reducing shame about STIs, substance use and mental illness." An awareness day cannot, without more, encourage more people with HIV to come out. Awareness is a small part of the calculus; you are a bigger part.
What else do you think we can do to make it easier for our friends in the HIV-positive community to come out?
***
Ari Ezra Waldman teaches at Brooklyn Law School and is concurrently getting his PhD at Columbia University in New York City. He is a 2002 graduate of Harvard College and a 2005 graduate of Harvard Law School. His research focuses on technology, privacy, speech, and gay rights. Ari will be writing weekly posts on law and various LGBT issues.