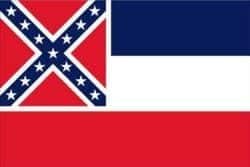 The "religious liberty" bill proposed in Mississippi, whose language follows in the footsteps of the Arizona bill vetoed last month by Gov. Jan Brewer by allowing for anti-gay discrimination by businesses based on religious beliefs, has been passed on to a study committee to be reviewed further. The committee will research how best to pass the bill later on, and for now the text citing "religious liberty" has been struck from it.
Think Progress reports:
This leaves the fate of the bill in question. If it goes to conference between the House and Senate, the problematic language could be added back to it. In addition, the new study committee could meet in the near future and offer some version of the bill quite soon. Lawmakers with concerns about the original language pointed out that the study committee might very well investigate new ways to create the same "license to discriminate" that led to their objections in the first place.
Mississippi law's definition of "person" encompasses businesses, so passage of a "religious liberty" bill of any kind would, like Arizona, provide for businesses to discriminate openly against the LGBT community. There has been backlash in Mississippi, though, which again echoes the events leading up to the Arizona decision.
Many Mississippi religious leaders opposed the bill, suggesting lawmakers' efforts "eerily echo Jim Crow laws that robbed African Americans of their basic human dignity."
Hopefully the bill will lose steam in the committee as activism and opposition mounts.