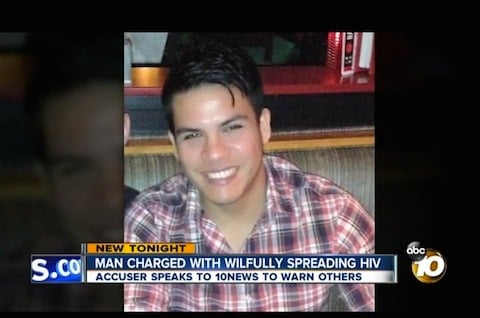 Thomas Guerra, the 29-year-old San Diego man accused of knowingly exposing an ex-boyfriend and potentially dozens of other men to HIV has been ordered by a judge to no longer use Internet dating sites, including the site where he met victims. 
The Los Angeles Times reports:
A criminal complaint against Thomas Miguel Guerra lists one alleged victim. But officials from the city attorney's office said the investigation is continuing and more victims may be added.
Guerra has pleaded not guilty to the misdemeanor charge, which carries a maximum sentence of six months in jail.
Superior Court Judge Dan Link rejected a request from the city attorney's office to increase bail for Guerra, now living in Imperial Beach.
But Link approved a request from the prosecutor to order Guerra to stay away from Internet dating sites as a condition of remaining free on bond.
Guerra, who is also known as Ashton Chavez, currently faces a maximum of six months in prison and a $1,000 fine. However, his alleged victim is hopeful that additional text message records could prompt prosecutors to upgrade the case to a felony, punishable with up to eight years in prison.