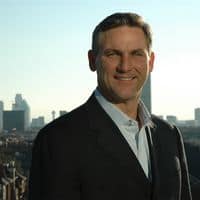 Craig James, a former TV football analyst, is fond of saying he was fired by Fox Sports merely because of his views against same-sex marriage. 
But it's beginning to seem more likely that Fox Sports let James go because he's a total wingnut with a variety of extremist anti-gay views, which he only began to publicly articulate in 2012 during a failed campaign for US Senate in Texas.  
Those views have come much more into focus during James' current tenure as a radio host for the Family Research Council, an anti-gay hate group. 
The most recent example was Friday, when James spoke with a caller to FRC's "Washington Watch" program.  
Right Wing Watch reports: 
"I want to say something very horrific, a solution, and I think it's the right solution," said the caller, who said his name was Phillip. "We pray for the homosexuals, we've prayed for our enemies but at the same time when they try to force us to go against God, I think that's where they cross the line and we should pass laws to execute them when they have judges to go against our businesses."
And here's James' response: 
"Thank you Phillip. You know what, that part there, I don't know about the executing, but I do know that we have to be bold and firm and much stronger. God doesn't tell us and calls us that we have to be timid and to stand for our straight — our beliefs. I'm doing a course right now in seminary and it's the history of the early church and it's fascinating, there's been lots and lots and lots of men and women who have died for their Christian beliefs since the beginning and now we are in a time in this country and in this world where we must be bold and stand for God and His truths." 
In other words, James isn't sure about executing gay people, but he's all for dying to stop them from getting equal rights.
Is there a difference? 
It sounds like James, a one-time NFL running back, would probably do whatever it takes to win — but I suspect the outcome of this struggle will be similar to that of his Senate campaign, when he ended up with 4 percent of the vote.  
Listen to the audio, AFTER THE JUMP …