Robby Mook, a Democratic strategist who ran Terry McAuliffe's successful 2013 campaign for governor of Virginia, has been chosen to take the helm of Hillary Clinton's presidential campaign, Mother Jones reports: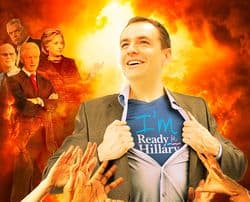 Mook is widely known as Robby, not Robert, and at 35, he's still boyish—handsome and clean-shaven with close-cropped brown hair. His usual uniform consists of chinos and bland dress shirts rolled up to the elbows. He couldn't be more different from, say, James Carville, the loudmouth Ragin' Cajun who advised Bill Clinton's first presidential bid and now makes a living as a consultant and TV commentator. Mook rarely appears in news stories or on TV. He did not respond to repeated interview requests. He has no Facebook page. He has a Twitter account but never tweets and has forgotten the password…
…Mook's friends and colleagues struggle to identify any particular policy issue that drives him. Mark Penn-style theories about key demographic groups (remember Soccer Moms?) don't inspire him either. He's a political nerd who lives and dies by data and nuts-and-bolts organizing.
Mook will be the first openly gay manager of a major presidential campaign. Clinton's announcement is expected sometime today.
Read the full profile on Mook at Mother Jones…
(h/t jmg)