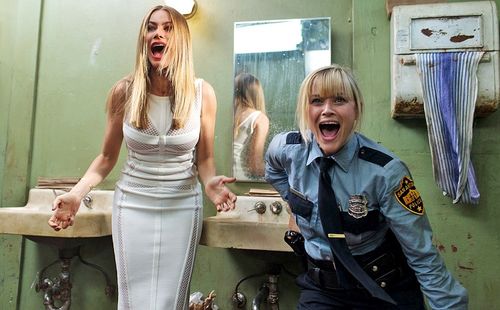 Sofia Vergara and Reese Witherspoon, attempting to outscream each other
If you look really closely while watching Sofia Vergara act, you can sometimes catch little one frame jokes the animators have snuck in. You surely wouldn't be looking for subtlety if you sit down for Hot Pursuit, but perhaps you wouldn't be expecting a full-blown cartoon? In this new buddy comedy from director Anne Fletcher (Step Up, The Guilt Trip, The Proposal) everything and everyone is broad, broader, broadest. And not just Vergara as America's favorite Colombian broad. Think The Proposal's strange dancing campfire scene between Sandra Bullock and Betty White. No, no. Not broad enough. Broader. Broadest!
Sofia Vergara plays tempestuous Sofia Vergara while Reese Witherspoon plays Officer Cooper, a well meaning super uptight cop. It's the classic odd couple dynamic showbiz has relied on since the camera was invented. These types are comedies are never reinventing the wheel, nor should they be expected too, so the test is always in how funny they are and how good the star chemistry is. Hot Pursuit will immediately be compared to The Heat not just because it stars two women (gasp!) but because of this uptight/wild dynamic and a similar crime situation with dirty cops and a drug lord who keeps escaping the law.
1. Will this odd couple who immediately hate each other learn to work together before the end credits roll?
2. Will Vergara & Witherspoon survive the McCarthy & Bullock comparisons?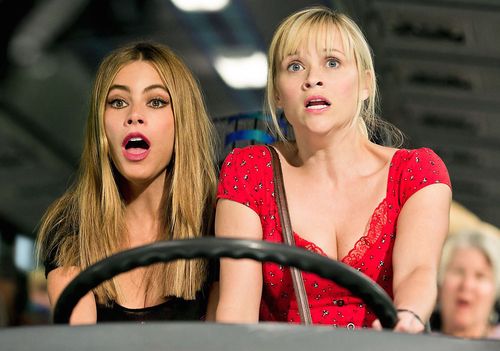 More Hot Pursuit and two LGBT interest movies AFTER THE JUMP…
The short answers are:
1. Duh, of course.
2. RIP Vergara & Witherspoon as Comedy Duo.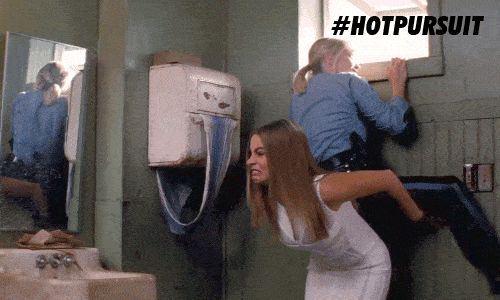 The plot is a relatively simple line on which to hang comic setpieces. Cooper is tasked with delivering her loud co-star quietly (good luck with that) and safely to the witness stand at a drug lord's criminal trial. Things go haywire immediately and our girls on the run. Or rather, on the walk. Vergara won't give up her jewel encrusted stilettos or a whole suitcase full of similar ones– because she's a vain diva, get it? — even if it means an early grave. So it's up to Reese to handcuff and basically drag her along which is not unlike how the movie-carrying load seems to divvy up. The movie makes a running joke of how short Reese is, which only exacerbates the problem: that's an awfully diminutive frame that you're expecting to carry everything.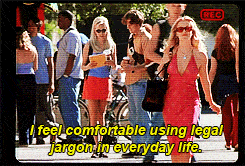 Not that Reese hasn't previously been a miraculous delight in cartoonish mode. To claim otherwise would enrage legions of Elle Woods Fan Club members.
I object!"
Almost no other actress does live action cartoon as joyfully and few actors have a charisma as resiliently large (see Wild – never boring despite the fact that it's basically a 2 hour hike with only Reese to keep you company). But even Witherspoon has her limits and she seems at a loss here, only intermittently funny and affecting the most oddly overstated southern accent from a southern superstar you've heard since Steel Magnolias.
Is this too mean?
It's not an outright disaster. Even Sofia Vergara has a few moments if you account for the scenes where she stops going for lazy laughs and attempts to imbue her diva with a little shade (no, not that kind). Rob Kazinsky shows up late for some eye candy purposes ("You're welcome" – casting director). Hot Pursuit is innocuous enough that it's easy to picture people watching it absentmindedly on TV when it pops up from time to time in the next few years and thinking it's funnier than it is, not having to sit through all of it.
And there are definitely a few good laughs (Reese high on cocaine — don't ask — turns out to be pretty damn funny) but mostly there are flop-sweat style hijinx, like a ridiculously complicated slapstick joke about Reese & Sofia on each other's laps while handcuffed, driving, and shooting guns.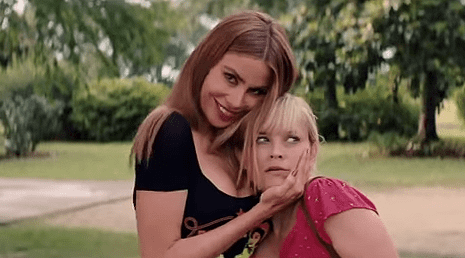 And finally, the entertainment value of watching whole scenes go horribly awry and wondering whatever possessed anyone involved should not be underestimated! Of particular note is a scene in which the stars pretend to be lovers, to distract a hillbilly pointing a gun at them. Their mock lesbianism, complete with fake makeout, is not unlike watching two awkward robots of vastly different sizes and protocols attempt to feign humanity only no one has uploaded anything about human sexuality into their programming. After lots of awkward non-human like touching and completely weird non-sexy body language, Sofia begins yanking on Reese's ponytail rather violently which suddenly turns the hillbilly on. Who is this scene supposed to appeal to: robots? homophobes? sadomasochists? pony-tail fetishists? I don't think this is what they meant when they asked for a "four-quadrant movie".
TWO GAY INTEREST FILMS
Two other pictures opening this weekend have far more LGBT appeal. Neither of them are a safe bet for role model fandom since their sexuality is totally messy and tangled up in drug use, but they're more recognizably human than Hot Pursuit.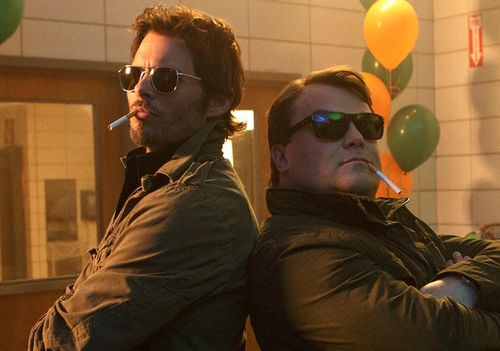 The wide release comedy THE D TRAIN (reviewed right here from Sundance) pairs Jack Black as an uncool family man trying to convince a very cool bisexual former classmate turned actor James Marsden to attend their High School Reunion. Our sad protagonist thinks the cool will rub off on him and gets way too obsessed with the actor. It's an uncomfortable comedy. Some of it works wonders while some of it is just so uncomfortable as to be squirmy rather than giggly but it's at least going for a totally different dynamic than most comedies go for. Plus we rarely get bisexual characters onscreen and who doesn't want James Marsden to be playing for their team?
The other new picture, SAINT LAURENT (which played at last year's New York Film Festival) is the best of the three. The French films stars Gaspard Ulliel as the eponymous fashion designer. The handsomely made but very long movie, which was France's Oscar submission and one of two separate movies about the designer last year, has some trouble surmounting the typical biopic problems — you don't need the whole life, just an impression of it — but it's super gorgeous to look at and evocatively directed. It's also notably sensual, not just in the way it observes the construction of the clothing throughout but in its very bold gay lust. Ulliel does not use a stunt penis — that's only for modest American stars in comedies! The movie spends as much time detailing the relationships beween Laurent and his lover (Ubiquitous French film star Louis Garrel giving the sexiest performance he's ever given… which is saying a lot if you've seen his work) and his romantic/business partner (Jeremie Renier) as it does gawking at his creative triumphs and what made him tick.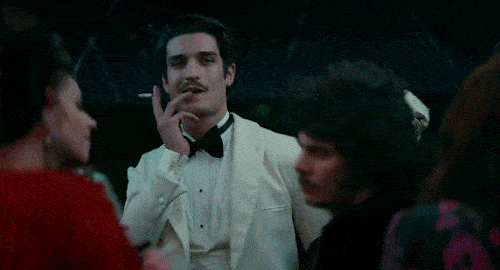 Nathaniel Rogers would live in the movie theater but for the poor internet reception. He blogs daily at the Film Experience. Follow him on Twitter @nathanielr.