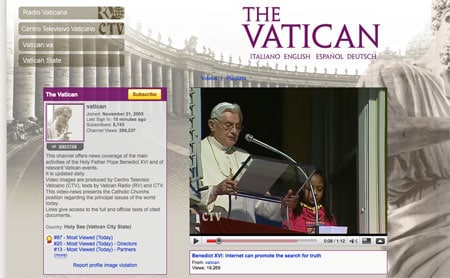 Pope Benedict has launched his very own Catholic propaganda channel on YouTube.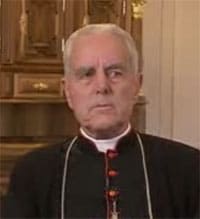 The Pope has also pardoned the excommunications of four bishops including British Bishop Richard Williamson, who is a Holocaust denier, a 9/11 truther, thinks women should neither be educated nor wear trousers, and is "violently" anti-gay, writes Andrew Sullivan:
"God did not wait for the founding of the Catholic Church to instill in men the horror of this sin, but he implanted in the human nature of all of us, unless or until we corrupt it, an instinct of violent repugnance for this particular sin, comparable to our instinctive repugnance for other misuses of our human frame, such as coprophagy."
Sullivan notes that in a letter from 1997 to his friends and benefactors, Williamson goes so far as to mock gays in a passage spelled out to mimic lisping:
"Oh, but Our Lord had chawity, (unlike thumwun we know who wath tho nathty to Pwintheth Di!). Our Lord loved thinnerth, and faggotth, and tho thould we!!"
Watch a short clip of Williamson, in which he states that he believes the Nazi gas chambers did not exist, AFTER THE JUMP...