Elder Dallin Oaks, a high-ranking Mormon, delivered a speech on Tuesday at Brigham Young University claiming that backlash by gays against the Church of Latter Day Saints following the passage of Proposition 8 was like the treatment of Blacks in the South during the civil rights movement.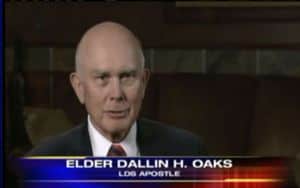 Watch a FOX 13 report and interview with Equality Utah and Mormon Elder Dallin Oaks, AFTER THE JUMP...
"Elder Dallin H. Oaks refers to gay marriage as an 'alleged civil right' in remarks prepared for delivery at Brigham Young University- Idaho, a speech church officials describe as a significant commentary on current threats to religious freedom. In an advance copy provided to The Associated Press, Oaks suggests that atheists and others are seeking to intimidate people of faith and silence their voices in the public square...In an interview Monday before the speech, Oaks said he did not consider it provocative to compare the treatment of Mormons in the election's aftermath to that of blacks in the civil rights era, and said he stands by the analogy. 'It may be offensive to some -- maybe because it hadn't occurred to them that they were putting themselves in the same category as people we deplore from that bygone era,' he said."
Asks Dan Savage: "How many Mormons were lynched after Prop 8? how many Temples were firebombed?"
Adds John Aravosis: "It really is the height of arrogance, and rather un-American to boot, for the Mormons to spend their money freely, in state after state, in an effort to force Americans to live under Mormon law, and then suggest that no one in America is permitted to even disagree with what the Mormons are doing, lest we oppress their efforts to oppress."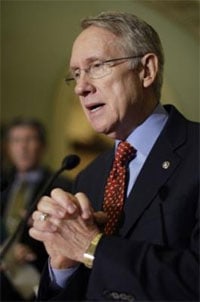 In related news, Senate Majority Leader and Mormon Harry Reid, who has been surprisingly outspoken as of late in his support for gay rights (he penned a letter publicly endorsing last weekend's National Equality March), struck out at his own church last week, criticizing the LDS for backing Proposition 8, saying they should have stayed out of it.
The Salt Lake Tribune reports: "Three organizers of the past weekend's National Equality March said Reid brought up the topic during a conversation in his office. 'He said that he thought it was a waste of church resources and good will,' said Derek Washington, a Nevadan who worked as the outreach director for the march. 'He said he didn't think it was appropriate.' Reid spokesman Jon Summers would not discuss the private meeting, but he didn't deny the conversation took place. 'While Senator Reid agrees with his church that marriage is between a man and a woman,' Summers said, 'he also believes that the resources that went into the Proposition 8 effort could have been put to better use.' LDS Church officials declined to comment Monday."
Watch a FOX 13 report and interview with Equality Utah and Mormon Elder Dallin Oaks,
AFTER THE JUMP...