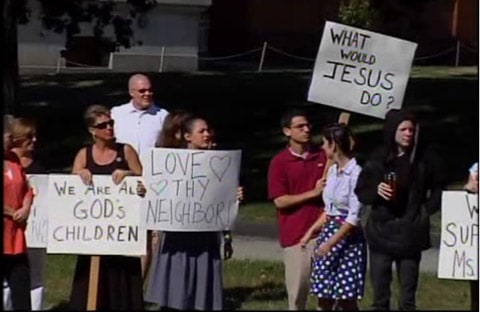 On Friday I posted about Christine Judd, the athletic director and dean of students at Cathedral High School in Springfield, Massachusetts, who was forced out after marrying her female partner. On Friday, dozens of students and supporters came out to protest in her defense.
"Springfield Diocese Spokesperson Mark Dupont says Bishop Timothy McDonnell was not available for an interview Sunday. But Dupont says these students' accusations are just speculation, and this is not a moral issue, but an employment issue. Judd agreed to abide by school policy, which clearly indicates that administration members must uphold the doctrine and teachings of the Catholic Church. 'She has acknowledged to her credit, that she undertook actions this past summer, which were in violation of an agreement she freely accepted. Casting aside what she did, the nub of the issue is that we ask people to make agreements and we ask people to keep those agreements,' said Dupont."
Watch, AFTER THE JUMP...