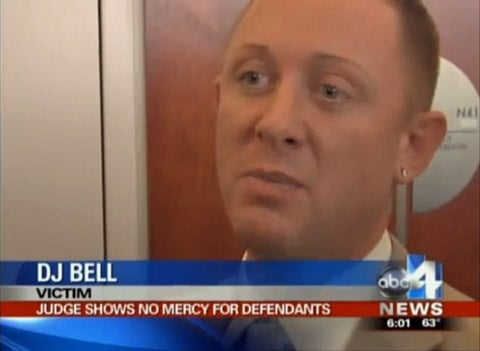 Four people have been sentenced to prison for the July 4, 2008 beating of former Salt Lake City neighbors David Bell and his partner Daniel Fair (pictured, below, following the attack). You may recall that Bell was brutally beaten by his neighbors after removing their young children from a rowdy party they were having and bringing them next door to their house to keep them safe. Bell was acquitted of kidnapping and burglary charges brought by the family in 2009.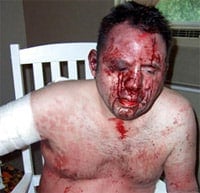 Now, the family who beat Bell and his partner have been sentenced, the AP reports:
Ieti Mageo, 34, Ieti Nuusila, 27, and Ricky Peace, 35, pleaded guilty to third-degree felony assault, burglary and rioting. They were among seven people charged in the attack.
Court records show 3rd District Judge Robert Faust sentenced the men to terms of zero to five years for each charge. The sentences will be served at the same time.
Tapululululu "Lulu" Latu, 32, the mother of one of the children, was sentenced to a year in jail. She had pleaded guilty to a Class A misdemeanor charge of attempted rioting. Faust suspended 180 days of the sentence and ordered Latu to also serve 24 months of probation.
Watch ABC4's report and interview with Bell and his attackers, AFTER THE JUMP...