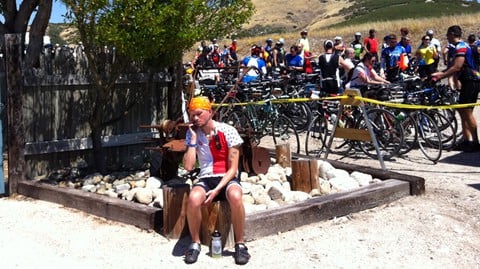 The ImFromDriftwood.com crew is in California for the 10th annual AIDS/LifeCycle, a bike ride from San Francisco to Los Angeles raising money for HIV/AIDS. IFD founder Nathan Manske and guest videographer and editor Jesse James Rice will be sending us exclusive daily Video Stories from some of the 2350 riders who are embarking on the 7-day, 545 mile trek. You can also follow their daily adventures on Facebook and Twitter.

At Rest Stop 3 on the third day of the Ride, Kenny approached the embedded Press Corps, which IFD is a part of, and informed us that he was about to call his mom to tell her for the first time that he's HIV-positive. He told me the decision came after having a lot of alone time to think about it while cycling and also the amazing community that's been surrounding him the past few days. He invited us to film his end of the phone conversation which lead to an incredibly emotional moment on the Ride.
Watch, AFTER THE JUMP...
PREVIOUS STORIES FROM OUR AIDS/Lifecycle SPECIAL...
Ride Brings Actor Chad Allen and Father Closer Than Ever [tr]
From Mocking LGBT People to Cycling 545 Miles By Their Side [tr]
After Decades of Stigma, Man Feels Comfortable in Being Open About HIV Status [tr]
AIDS/Lifecycle 10 Ride Opening Ceremonies: Video [tr]