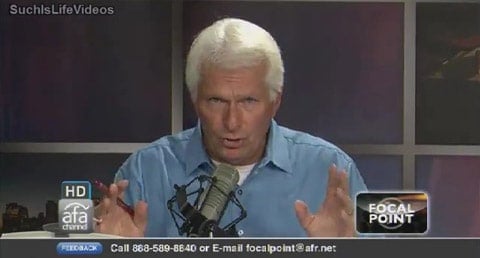 Bryan Fischer of the American Family Association (last year classified an official 'hate group' by the SPLC) discussed CPAC's rejection of gay conservative group GOProud on his radio show, and their participation last year, which caused several other groups (many of which were also, like the Family Research Council, classified hate groups) to boycott the conservative confab.
Watch, AFTER THE JUMP...
Says Fischer:
"Homosexuality is not a conservative value." GOProud - their agenda is to put open homosexuals in the military and promote gay marriage. So they are as relentless and as far left as you can get on the issues of human sexuality. And we said look if CPAC is going to treat that as a conservative position we're not going to be a part of this thing."
Fischer then goes on to cite the government's ban on blood donation from gays as the reason conservatives, or anyone for that matter, should not even have contact with homosexuals:
"I think this is one of the reasons where our argument is infallible...is the danger that homosexual contact imposes to human health. I gave blood here several weeks ago and I was asked three times...have you as a male ever had sex with another male one time since 1977. If I had answered yes, I would not have been able to give blood.  The risk to the nation's blood supply is so severe that the risk that active homosexuals pose to the nation's health, to the nation's blood supply is so severe that if a man has had sex even one solitary time since 1977 - cannot donate blood. That, ladies and gentleman, tells you all you need to know."
Fischer then goes on to cite the recent HIV study from the CDC and uses it to stoke racial homophobia of blacks against gays:
"If you care about minorities, then it's especially urgent that we stop legitimizing this lifestyle...If you have any compassion for the African-American community at all then you want this alarm to be sounded throughout the black community. It's not a lifestyle. It's a death-style."
Watch, AFTER THE JUMP...
Yet mainstream news organizations continue to pander to these hate groups.
The New York Times' Erick Eckholm yesterday wrote an article on the AFA and its upcoming prayer rally this weekend, 'The Response'. Eckholm was slammed yesterday by GLAAD for adopting the AFA's hate language in characterizing some of its arguments. They write:
Not once does Eckholm indicate that perhaps non-liberals might also disagree with the assertion that LGBT people want to put Christians in "re-education camps" or that "the number one class of people who are committing hate crimes today are homosexual activists" (both claims made by Fischer). Nor does he mention that the "liberal critics" who designated AFA as a hate group are actually the widely respected Southern Poverty Law Center.
Read GLAAD's blast HERE, and watch Fischer's disgusting segment, AFTER THE JUMP...
The