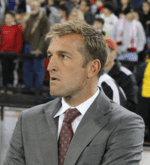 BY DAVID MIXNER
By 2015, New York City will have a new major league soccer team owned by the famous Manchester City. This will be the second in the area with the New Jersey Bulls playing in Harrison, New Jersey. In an announcement this month, the New York City FC presented Jason Kreis (right) as the new coach for the franchise. Now the process of picking the players and ironing out the logistics of where the team will play in NYC.
Kreis has an incredible opportunity to break the glass ceiling here in New York City. The Big Apple has never had an openly gay player in any of its major male sports franchises. While the Los Angeles Galaxy has snapped up out athlete Robbie Rogers and former World Cup German player Thomas Hitzlsperger (below) recently came out of the closet, the time has come for Major League Soccer to embrace the momentum and show the rest of the leagues the way.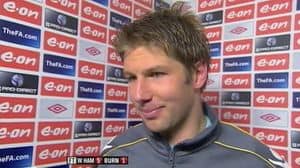 One can't help but wonder what would happen to Hitzlsperger if he was still playing. After the Russians host the Olympics, they will be hosting the World Cup in 2018 and that will be followed by one in Qatar.
In a Guardian/Observer editorial after the German player's coming out, the paper stated:
Now, everyone agrees that a footballer's sexuality should not be a big deal in 2014, but FIFA's response still felt a little casual. Enthusiastically backing Hitzlsperger seemed like an open goal for the organisation, particularly with its recent patchy record on gay rights. The 2018 World Cup will be held in Russia, which has introduced laws to ban gay "propaganda"; four years later, the tournament moves to Qatar, where homosexuality is still punished with a prison sentence.
There is genuine speculation that players and spectators will be vetted by a Kuwaiti-engineered "gay test" in 2022. When Sepp Blatter, the Clouseau-esque president of Fifa, was asked in 2010 about the issue, he smiled and suggested that homosexual football fans would just have to "refrain from sexual activity" in Qatar. Pushed further last June, he deflected: "What you are speaking about… this is going into ethics and morals." But venturing into these thorny areas is exactly what Fifa should be doing. After years of punishing racism with ineffectual fines, Blatter recently suggested he would be getting tough: deducting points from clubs, eliminating them from competitions. Why should homophobia be any different?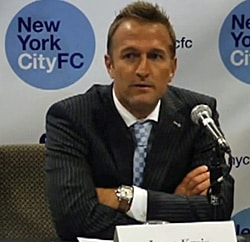 The Wall Street Journal reports on the new franchise in New York City:
"As he goes about building his first NYCFC side, Kreis will have the enviable resources of Manchester City at his disposal, including a 36-strong scouting team—14 of whom are, significantly, in South America—and the option to loan players from the Manchester City development system. But he will still need all of his powers of good housekeeping as he negotiates the MLS salary cap and a rule book that forces a competitive parity his new bosses are unfamiliar with."
The time has come for New York City to get ahead of the game! With a 36 member scouting team, surely New York City FC should be able to find one great gay soccer player. Really, it can't be that difficult. Coach Kreis has not only the opportunity to make history in New York City but to build a powerful new fan base for his club.
For heaven's sake, don't make New Yorkers go to the stadium and cheer Los Angeles Galaxy because we have no openly gay soccer player in New York. Can you imagine, Sir, how hard that will be for us?
Do the right thing from day one of this club and find a top notch openly gay player that will lead our team to victory, fill the stands with new fans and make all New Yorkers proud to wear that player's jersey.
Watch the press conference announcing Kreis as coach, AFTER THE JUMP...