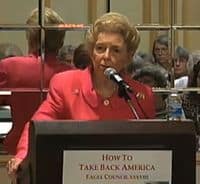 On her latest radio commentary, right wing blowhard Phyllis Schlafly made the baseless claim that there is an ongoing exodus of anti-gay Americans away from marriage equality states because of pro-LGBT laws.
Said Schlafly:
"…many Americans are dissenting with their feet, by moving away from same-sex marriage states and into the many states that continue to recognize the value of marriage as being between only one man and one woman." 
Right Wing Watch quips, "The liberal media must be covering up this mass exodus from marriage equality states, because we haven't heard a single story of someone doing this."
Listen, AFTER THE JUMP...