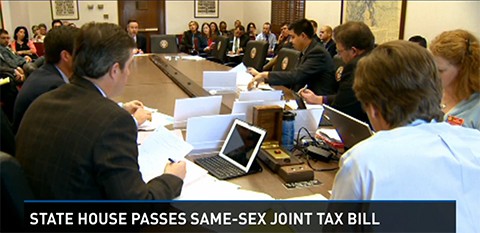 Colorado's House of Representatives today passed a measure previously approved by the state's Senate that would allow Coloradans in same-sex marriages to file joint tax returns. The bill will now head to Governor John Hickenlooper's desk for his approval or veto. According to the AP:
The Colorado House passed the measure Monday on a largely party-line vote with Democrats in favor...
The measure requires gay couples in a civil union to file their Colorado taxes using the same filing status on their federal tax return if they are married in another state.
While Republican lawmakers complain that the measure would violate the state's constitutional ban on same-sex marriage, Democrats insist they are merely complying with federal law. Back in August the Federal Government announced it would recognize same-sex marriages for the purpose of filing joint tax returns regardless of where the marriage took place and irrespective of whether the state in which a couple currently resides recognizes same-sex marriage. According to the Treasury Department:
Any same-sex marriage legally entered into in one of the 50 states, the District of Columbia, a U.S. territory, or a foreign country will be covered by the ruling. However, the ruling does not apply to registered domestic partnerships, civil unions, or similar formal relationships recognized under state law.
Colorado currently does not allow same-sex marriage but codified civil unions in March of last year.
Check out a news report on Colorado's newest legislation concerning same-sex couples, AFTER THE JUMP...