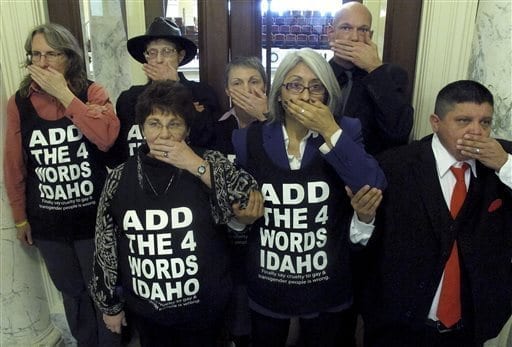 Thirty-two people demanding Idaho lawmakers add the words "sexual orientation" and "gender identity" to that state's anti-discrimination laws were arrested at the state Capitol on Thursday.
The Associated Press reports:
Senate President Pro Tem Brent Hill, R-Rexburg, said he respects protesters' right to assemble, but not if they interrupt Capitol business.

Hill said lawmakers from both parties have been meeting over possible ways address demonstrators' concerns, but worries pressing the issue, including by being arrested, may alienate potential allies and destroy any fragile agreement that might be reached.

"We're trying to come up with ways to protect gay rights and religious freedoms," Hill said. "If this is forced into a hearing and a vote, you'll lock some lawmakers into a vote before a solution can be found."
As they did during a similar demonstration earlier this month, protesters wore 'Add the Words IDAHO' t-shirts and covered their mouths with their hands.
Idaho's first openly gay lawmaker, former State Senator Nicole LeFavour participated in the protest, though she was not one of those jailed. She says that the protests will continue.