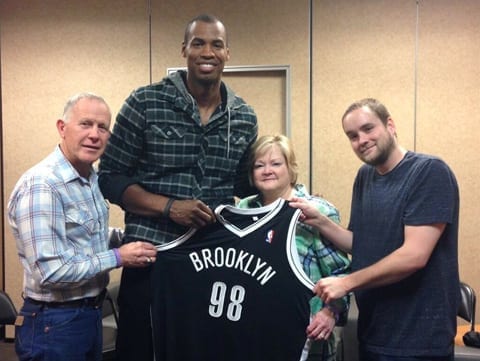 Brooklyn Nets player Jason Collins, who wears '98' as a tribute to Matthew Shepard who was brutally murdered that year, met Shepard's parents and brother Logan for the first time last night after they drove four hours from their home in Casper, Wyoming to see him in Denver. He presented them with a jersey.
Said Collins before the meeting:
"I was in college at the time when [Matthew] was killed. Of course it's a tragedy what happened and I just hope it inspires others to come forward. It's definitely going to be special meeting them after the game (Thursday) and I'm looking forward to it."
Collins' jersey has been selling in record numbers since it went on the NBA's website earlier this week.
The NY Daily News adds:
Asked if he thought the popularity of the jersey could be seen as a symbol of support for those uncomfortable about revealing their sexuality, Collins said, "That's something for you guys to speculate on. But I'm always encouraging others to live their life and speak up and come forward if you want to, and know that if you do there's a lot of people waiting to support you."
Tweeted Collins, with the above photo: "I'm so fortunate to have met Matthew Shepard's parents and brother tonight after @BrooklynNets win tonight in Denver"
An interview with Collins, and Shepard, AFTER THE JUMP...