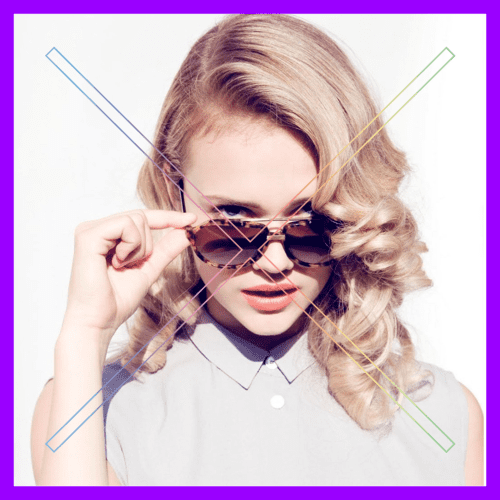 BY OCCUPY THE DISCO / RU BHATT
The OXD Mirror is a weekly music column brought to you by the boys of OCCUPY THE DISCO (OXD), a New York City based collective created by three music lovers, Ru Bhatt, Josh Appelbaum, and Tad Haes, who want to share their love for disco, house and dance music with the world.  

Florrie - 'Seashells'
British model/drummer/pop singer/songwriter Florrie first occupied my ears 3 years ago with 'Call 911,' which was briliantly remixed by disco mastermind Fred Falke in 2010. The song quickly became my personal favorite of that summer (the more popular 'Happiness,' by Alexis Jordan, complemented it perfectly) and I've enjoyed following her career ever since.
After notable releases like 'I Took A Little Something' and 'To The End' on various EP's, Florrie is releasing a new EP, Sirens, in April of this year – her first release since being signed to a major record label. The lead single, 'Seashells' has a heavy Middle Eastern backbone that complents Florrie's ethereal vocals, making it a nice slow burner for the dancefloor. While her debut album is rumored to be "still happening," we'll have to make do with yet another tease from the blonde bombshell, which will hopefully satiate us until the LP details are released later this year.
Tomorrow night, we're OCCUPYING Brooklyn's Cameo Gallery for OXD fan-favorite and ally, Plastic Plates' return to New York. Check out a set inspired by his pop, disco and house sensibilities, AFTER THE JUMP...

After remixing artists like Adele and Katy Perry, and enlisting Sam Sparro for vocals on his latest single (shared by Tad last week), it's no wonder why Plastic Plates' sound resonates well with gay audiences. This week I've curated a playlist of new releases that will get you geared up to his unique blend of pop, disco and house. If you're in New York, I hope you can join us on the dancefloor tomorrow night, when we occupy Brooklyn's Cameo Gallery for Plastic Plates' return to the Big Apple. 
Hot Chip's Joe Goddard puts some UK garage-laden bounce into Neneh Cherry's triumphant comeback single, which features fellow Swedish songstress, Robyn!
Kylie Minogue gets the deep house treatment for her latest, 'Into The Blue,' courtesy of house music legend and peer to David Morales and Danny Tenaglia, Roger Sanchez.
Toyboy & Robin's latest release is another banger that fuses a strong sense of pop music with R&B vocals by Alex Adams.
'C.Y.S.' is a self-described "interstellar love song" by Moon Boots that will have you soaring to new heights with it's warm melody and soulful vocals.
New York's disco denizens Holy Ghost! and Midnignt Magic collaborate on a sparkly, trippy remix that smooths out the original's effervescent vibes.
SYF & Fritz Handler (formerly of Azari & III) provide vocals for Australia's Yolanda be Cool's Ace of Base resurrection, 'All That She Wants.' The song gets a nice electro-synth rework by fellow Aussie and man of the hour, Plastic Plates. (Note: the version in the playlist is only a preview. Listen to the full song on Spotify).


OCCUPY THE DISCO (OXD) curates and recommends music events to the gay community in NYC—in an effort to move the focus of the nightlife scene beyond the promoter and venue and to the music itself. OXD's goal is to educate, entertain, engage and empower the gay audience to reclaim their ability to question and experience the unknown. The OXD Mirror will serve to showcase tunes that are definitely off-the-beaten-path but rightfully deserve the attention of the gay ear.
This week's post was written and curated by Ru Bhatt. Check out more of his music picks on his podcast, The Ru-Mix and on Made In Brazil.

Be sure to check out these tracks and more on our Spotify Playlist. For more information on OXD, check out our website and accompanying blog at www.occupythedisco.com, like us on Facebook, or follow us on Twitter: @OccupyTheDisco.