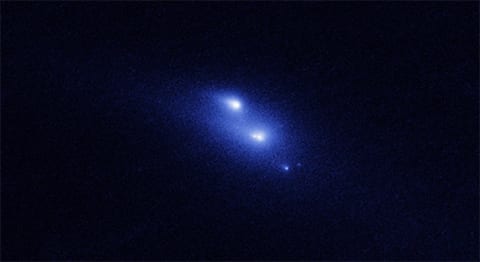 NASA's Hubble Telescope captured pictures of the P/2013 R3 asteroid breaking up into 10 pieces between October last year and mid-January, The Guardian reports. Though "fragile comet nuclei have been seen falling apart as they near the sun, nothing resembling this type of breakup has been observed before in the asteroid belt."
The largest four pieces among the group are approximately 200 yards in radius.
"[The astronomers] said it was unlikely that the asteroid is breaking up because of a collision with another, because that would have caused an "instantaneous and violent" break up.
They said that the break up is also unlikely to have been caused by interior ices warming and vapourising because it is too cold – being nearly 300 million miles from the sun.
Professor Jewitt, who led the astronomical forensics investigation into the asteroid, said that it could have disintegrated due to a "subtle effect of sunlight".
He said that this can cause the rate of rotation to increase slightly, which causes the asteroid's component pieces to gently pull apart due to "centrifugal force".
This type of disruption has been discussed by experts for several years but has never been reliably observed.
The disparate parts of the once unified asteroid have since released a joint statement saying they are never, ever getting back together.
Watch the asteroid break-up for yourself, AFTER THE JUMP...