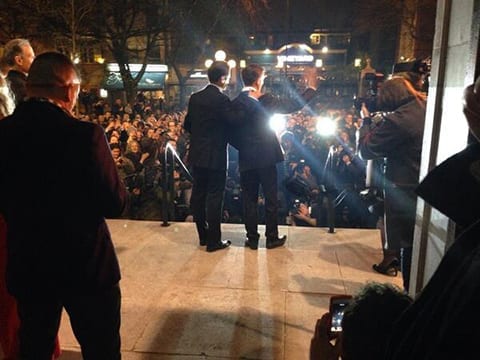 As we just reported, Peter McGraith and David Cabreza of Islington were among the first same-sex couples (and quite possibly the first) to get married once marriage equality was legalized in England and Wales after midnight. When the happy couple emerged from Islington Town Hall they were greeted with a warm and raucous crowd wishing them well.  
Meanwhile Prime Minister David Cameron, who fought hard for marriage equality, released a statement today, as Joe.My.God. highlights:
"The introduction of same-sex civil marriage says something about the sort of country we are. It says we are a country that will continue to honour its proud traditions of respect, tolerance and equal worth. It also sends a powerful message to young people growing up who are uncertain about their sexuality. It clearly says 'you are equal' whether straight or gay. That is so important in trying to create an environment where people are no longer bullied because of their sexuality – and where they can realise their potential, whether as a great mathematician like Alan Turing, a star of stage and screen like Sir Ian McKellen or a wonderful journalist and presenter like Clare Balding. We are a nation that is growing stronger economically because of our long term economic plan. But I hope we can also be a country that is growing stronger socially because we value love and commitment equally. Let us raise a toast to that – and all those getting married this weekend."
Watch video of McGraith and Cabreza emerging as husband and husband for the first time, along with a few more photos from the big day, AFTER THE JUMP…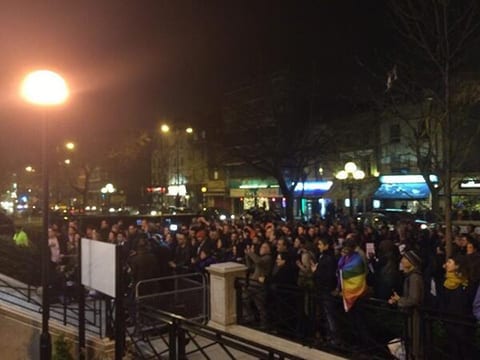 (Photo at top via Twitter; photo at bottom also via Twitter)
McGraith and Cabreza leaving Town Hall.
RT @jimwaterson: David and Peter walk out out of Islington Town Hall as husband and husband. UK has equal marriage. https://t.co/hNI8QzszVW

— Andrés Duque (@Blabbeando) March 29, 2014
RT @Pharkie: Peter and David appear #equalmarriage https://t.co/vfCNjrpcxi

— Andrés Duque (@Blabbeando) March 29, 2014
More of Kyle and Richie (who we showed you earlier)
RT @TomDunn89: "You are husband and husband! " Happy days! Is this the first #equalmarriage in UK? pic.twitter.com/7W21Jnzf3x

— Andrés Duque (@Blabbeando) March 29, 2014