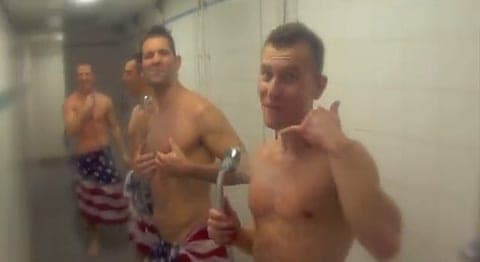 A group of French firefighters is being reprimanded by their bosses for soiling the dignity of their professions after posting a shirtless lip-synch video to YouTube as a birthday present to a colleague, The Local reports:
The publicly posted video shows the bare-chested guys in their firefighting gear, but also working out and as well as in the shower,  while they lip synch to Carly Rae Jepsen's ubiquitous 2012 hit 'Call Me Maybe.'

The short clip, which carries the written message "Happy birthday Naninanounax!, This was made on the occasion of a birthday, and was an attempt to make fun of ourselves. It is not meant to be taken seriously."
"We don't necessarily want to put off a funny image of ourselves. It's not in our best interest," an unnamed source from management told France TV. "On top of it, they are at the fire station, using department equipment. It's not appropriate."
Watch the clip, AFTER THE JUMP...