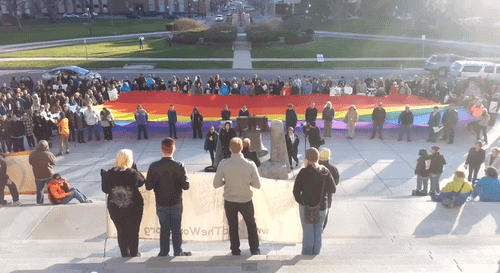 At the Idaho Statehouse in Boise on Monday, hundreds of demonstrators circled around the building to greet lawmakers and push for "sexual orientation" and "gender identity" to be added to the Idaho Human Rights Act.
Idaho's Republican lawmakers have repeatedly declined to hold a hearing on possible changes to the state's human rights act for several years. Supporters of the "Add the Words" movement say updating the human rights act would protect LGBT people in Idaho from discrimination in housing and employment. 
Last month, police arrested 32 LGBT activists at the state Capitol who were protesting lawmakers' refusal to bring up the issue. 
Check out footage and a news report of the rally, AFTER THE JUMP...