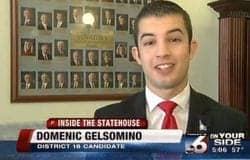 Idaho's District 18 has a first on its hands. Dom Gelsomino, a Republican candidate for the district's state legislature seat, also happens to be openly gay. However, he hopes that if elected, people will recognize that as a self-described "conservative Republican" he is in the legislature to do a job and to vote, not to tout his personal life.
ABC 6 reports:
With gay rights as one of the hottest issues at the Idaho Statehouse many have viewed the issue as partisan - that "adding the words" went down party lines. Gelsomino says not if he's elected.
"I would support 'Add The Words' where religious institutions, organizations and businesses would be exempt, as would be the federal and state-owned businesses, buildings or organizations," he says.
His opponent, Democrat Representative Phylis King is the co-sponsor of the current 'Add The Words' bill and she tells On Your Side she's not concerned with Gelsomino's sexual orientation.
"I think that's his business," says King. "What I want him to do if he wins is to be a really good legislator and to work as hard as I do."
...
"Despite my personal life, it's how I will vote that's going to matter," he says.
What do you think about Gelsomino's ambitions? 
Check out news coverage (autoplay), AFTER THE JUMP...