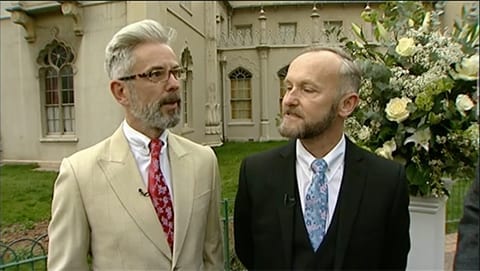 At midnight local time tonight, marriage equality will officially become the law of the land in England and Wales. The campaign has been hard fought but thanks to legislation passed last year and signed in July by Queen Elizabeth II, same-sex couples can finally enjoy the same rights and benefits as their heterosexual counterparts in Britain. 
Calling today, "a great step forward," Deputy Prime Minister Nick Clegg seemed to soak in the historic nature of what Britain has achieved. From ITV:
"It's a landmark day," [Clegg] said. "I am so chuffed about this change in the law."
"It's just a simple idea that if two people love each other it doesn't matter that they're the same sex - if they love each other and want to show that commitment towards each other through marriage, they should be able to do so."
As the Standard reports, Clegg also announced that the rainbow flag will be flown "above the Cabinet Office and Scotland Office from today."
Labour leader Ed Miliband for his part spoke to ITV, calling this an "incredibly happy time" for same-sex couples as well as "an incredibly proud time for our country".
Andrew Wale and Neil Allard from Brighton (pictured above) will be one of the first couples to be wed after the stroke of midnight, joining many more across the country. The couple told ITV that being able to get married at all is to them a "great privilege." Trevor Love, the registrar who will officiate the wedding, has called it, "the most exciting day of my life."
Meanwhile, though the Christian clergy in Britain has been at odds with proponents of marriage equality for some time, Archbishop of Canterbury Justin Welby gave remarks today that some are interpreting as more 'conciliatory' in nature: "I think the church has reacted by fully accepting that it's the law, and should react on Saturday by continuing to demonstrate in word and action, the love of Christ for every human being."
Happy day though it may be, British men still can't become the Princess of Wales or Queen of England due to changes in courtesy titles associated with peerages that were made to accommodate the new marriage law. 
You can watch a special message from Deputy Prime Minister Nick Clegg, AFTER THE JUMP…