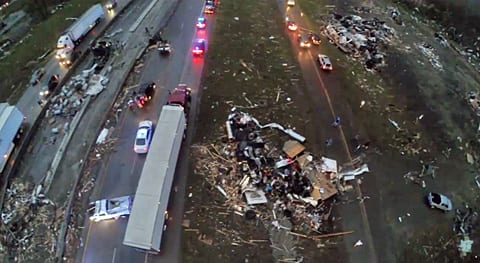 At least 17 people have been killed following a series of massive tornadoes that ripped through Arkansas and Oklahoma on Sunday.
Reunters reports:
Arkansas authorities said at least 10 people had died in Faulkner and six more across the state - the first reported fatalities of this year's tornado season. Another person was killed in neighboring Oklahoma, said the sheriff's department.
Searchers were continuing to dig through rubble in Vilonia and a spokesman for the County Sheriff's office said there was a "mass casualty situation".
"An entire neighborhood of 50 or so homes has been destroyed. Many homes are completely gone except the foundation ... There is more devastation like this in other parts of Arkansas," state congressman Tim Griffin told Reuters.
Stormchaser Brian Emfinger was also able to shoot aerial drone footage of the tornado's destructive aftermath in Mayflower, Arkansas.
Watch, AFTER THE JUMP...