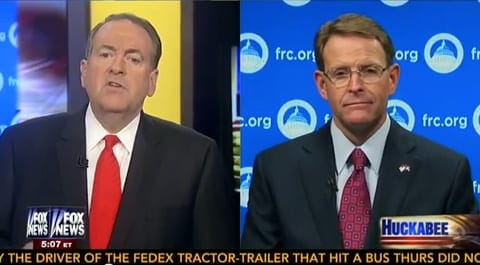 Mike Huckabee and Dan Cathy went after Chick-fil-A's Dan Cathy on FOX News program Huckabee over the weekend, reacting to the Chick-fil-A CEO's recent statements that he wants to put the company's anti-gay controversy behind him (even though his personal views haven't changed).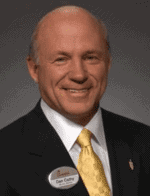 Said Perkins:
"I think we're seeing those in the business community becoming cowards."
Asked Huckabee:
"Why is it that businesses would capitulate to the pressure and demands to just shut up and go away and not say anything when nobody is asking the Left to do that?"
Added Perkins:
"Tolerance is a one-way street for these individuals. What they want to do is force the rest of America not to just to tolerate but to celebrate what they're doing. They want to redefine America...They're doing it in large part because many, even conservative business owners who are fearful of these attacks, are going silent. They're going dark on these issues. They're capitulating. And that's just allowing this group to roll over our freedoms and liberties...What they're wanting to do is silence the vast majority of Americans who disagree with them."
Watch, AFTER THE JUMP...