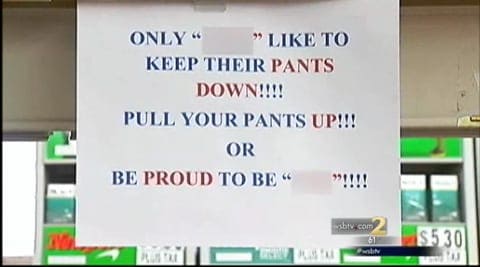 A sign at a LaGrange, Georgia gas station is causing controversy, WSBTV reports:
The owner said he put it up because he was sick of customers coming in with saggy pants. The sign calls customers a gay slur if they choose to wear saggy pants.

"I came up with that sign, nobody else did," said Anil Patel, who owns PCA Food Store on Hogansville Road. "Since that sign went up there, I don't see no pants down in my store, because they read the sign and they decide what they want to be."
..."It really offends me by them coming in, pants down. So it is not that I'm against them, gay people or anything like that, but just trying to prove a point. If you are going to come in my store, make sure you have your pants on," Patel told Channel 2's Rachel Stockman.

Late Thursday night, the owner's father pulled the signs down but Patel, who is out of town, plans to come back first thing Friday morning to put the sign back up.
Watch, AFTER THE JUMP...