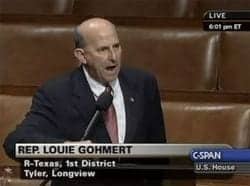 Rep. Louie Gohmert (R-TX), perhaps the nuttiest anti-gay bigot in the House, is very much pleased with Mississippi's new law that will allow businesses to turn away LGBT people as an "exercise of religion."
Right Wing Watch reports that on Family Research Council's radio show Thursday, FRC president Tony Perkins was joined by Gohmert and Mississippi Governor Phil Bryant in an anti-gay kumbaya to celebrate Mississippi's ability to do what Arizona and Kansas could not. While there, Gohmert gushed on Bryant, saying:
Governor, we are so proud, you have set such a wonderful example of real freedom. You've seen it first hand, there is nobody more intolerant in this country than those that are screaming for tolerance. Christians are not intolerant but whoa, goodness these people that have their leftist agenda that are so intolerant so thanks for having the courage to stand up. 
You can listen to the full clip, AFTER THE JUMP...