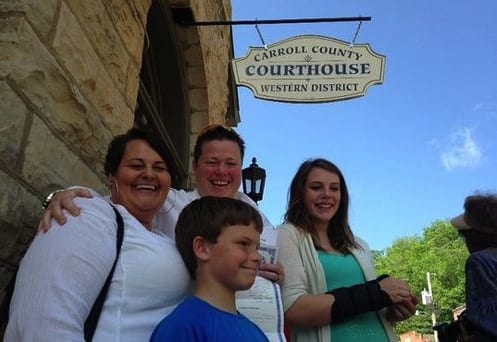 The AP reports on the state's plan:
The state's top lawyer has told the judge who overturned Arkansas' 2004 constitutional amendment banning gay marriage that he will appeal the ruling to the state Supreme Court.

Attorney General Dustin McDaniel gave the notice late Saturday night, but not before 15 licenses were issued for same-sex couples in northwest Arkansas' Carroll County, heralding the arrival of gay marriage in the Bible Belt.
Attorney, Cheryl Maples, the lead attorney who filed the lawsuit challenging the state's ban on gay marriage was at the courthouse in Carroll County when those couples were married yesterday. She said: "They shouldn't be denied the right. Under Arkansas law they say that marriage is a civil contract. Not holy matrimony, a civil contract."
AFTER THE JUMP, watch a THV11 Little Rock news segment which features interviews with several of the newly married couples and the officials who issued the marriage licenses.