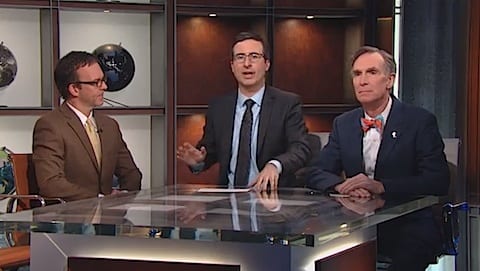 As is becoming standard, it takes a fake news comedy show rather than major news outlets to report on the facts as they are instead of catering to excessive spin, bias, and false equivalencies.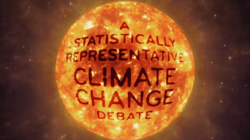 On this past Sunday's Last Week Tonight, host John Oliver shines a light on the absurdity surrounding the climate change "debate." What he points out is that the major news outlets frame the debates with a one-on-one false equivalency, typically with "bullying scare-monger" Bill Nye arguing for the existence of climate change and "some dude" against, giving the misleading impression that the topic is still open for debate.
Oliver decides to balance things out a bit on his show and has Bill Nye, along with 96 others, argue against 3 "deniers" for what he calls "A Stastically Representative Climate Change Debate." Bedlam ensues after about half a second.
You can watch Oliver's report and subsequent debate AFTER THE JUMP...