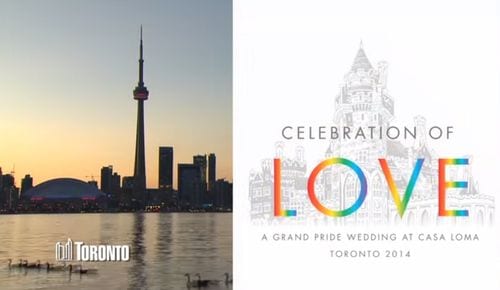 Toronto will be hosting World Pride this June, and the organizers have got a record-breaking idea up their sleeve. 
On June 26th, 200 LGBTQ couples will be invited to tie the knot at the world's largest queer wedding. The event is called A Celebration of Love: A Grand Pride Wedding and it will take place in the gardens at Casa Loma, a beautiful castle in the city. 
Because World Pride is an international event, couples from countries where same-sex marriages are not yet legal will have the opportunity to be recognized. Councilor Kristyn Wong-Tam and deputy mayor Norm Kelly also see the event as part of a healing process after anti-gay remarks and actions from mayor Rob Ford.
Now Toronto reports:
Wong-Tam, the only openly gay council member, said the celebration is also a chance for Toronto to turn the page after Mayor Rob Ford made international headlines with his anti-gay actions. In February Ford tried to have the Pride flag removed from a ceremonial pole outside City Hall. Last week he was caught on tape making disparaging remarks about "the gays" who led the flag-raising campaign...
"I think that it's time for us to show a different face of Toronto, to demonstrate that this is a city of equality and inclusive values, a city that celebrates all its diverse communities," Wong-Tam said.
She noted that the city has a proud history of protecting LGBTQ rights. In 1973 council passed a motion prohibiting discrimination against city employees based on their sexual orientation, the first legislation of its kind in Canada. The first same-sex marriages in Canada took place here in 2001, four years before Parliament passed legislation making them legal.
That history "can't be undone by just one person," Wong-Tam said.
The event will be free to the couples who choose to participate, there will be officiants from a variety of religious and non-religious backgrounds in attendance, and...
The wedding colours will, of course, be rainbow.
Check out Councilor Wong-Tam and Deputy Mayor Kelly's invitation video, AFTER THE JUMP...