The Arkansas Legislative Council, the organizing committee for the state's General Assembly, has approved a resolution urging the Arkansas Supreme Court to uphold the state's voter-approved ban on same-sex marriage that was struck down by Pulaski County Circuit Judge Chirs Piazza back in May.
Southwest Times Record reports: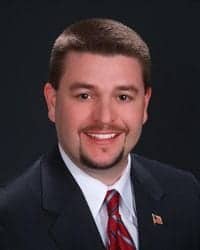 The non-binding resolution by Sen. Jason Rapert [pictured], R-Conway, had 59 of the 135 members of the Arkansas Legislature as co-sponsors. Legislators adopted it in a voice vote with only a few "no" votes heard. […]
The resolution states that "Judge Piazza's resolution is in direct contradiction to his oath to uphold the Arkansas Constitution" and that the Legislative Council "shall explore legislative remedies to prevent the Arkansas Constitution and the will of the people of this state from being negated by judicial activism which violates the separation of powers ensured in our form of government."
Rapert told reporters he expected Friday's action to be followed by an effort to create a system of judicial recall in Arkansas. Work has already begun on developing a citizens' initiative to allow judges to be recalled, he said.
Watch THV11's report, AFTER THE JUMP...