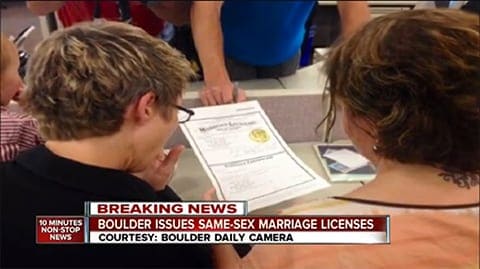 Hillary Hall, the county clerk and recorder in Boulder, Colorado, has announced that Boulder will now provide marriage licenses to same-sex couples. Hall's announcement comes on the heels of the Tenth Circuit Court of Appeals' ruling today to uphold a previous decision that struck down the state's ban on same sex marriage. A news report from local news channel ABC 7 also reported that Hall's announcement was influenced by another key decision that came down today, that of U.S. District Court Judge Richard L. Young who found that Indiana's ban on same-sex marriage was unconstitutional. According to The Denver Post,
Hall said she is moving forward with the issuance of same-sex marriage licenses because the 10th Circuit has upheld "the fundamental right to marriage."
"Couples across Colorado have been waiting a long time to have their right to marry the person they love recognized," she stated in the release. "I want to act immediately to let them carry out that wish."
One couple (pictured above) has already been married in Boulder. The clerk's office will begin issuing licenses again tomorrow starting at 8AM at its Boulder office, located at 1750 33rd St. for any of you out there in the Rocky Mountain State. Meanwhile, the clerk's offices in Lafayette and Longmont will begin licensing marriages to same-sex couples on Friday.
Hall made no mention in her release of the stay the tenth circuit put on its ruling until the U.S. Supreme Court has a chance to weigh in. Meanwhile, Colorado Attorney General John Suthers has already said any licenses issues by Boulder County will not be considered valid by the state:
Carolyn Tyler, spokeswoman for [the Colorado AG] said any same-sex marriage licenses issued in Colorado will be invalid. Because the 10th Circuit decision was stayed, Colorado's ban against gay marriage remains in effect, she said.
"It's not binding on Utah let alone on Colorado," Tyler said. "Boulder has a history of activism on this issue."
She noted that in 1975, the Boulder County Clerk issued marriage licenses to a few gay couples.
"They are no more valid today than they were in 1975," Tyler said.
According to Denver Post reporters John Aguilar and Kirk Mitchell, Suthers also commented that, "Boulder has a history of activism on this issue."
Watch a news report on the Boulder County Clerk's decision, AFTER THE JUMP...