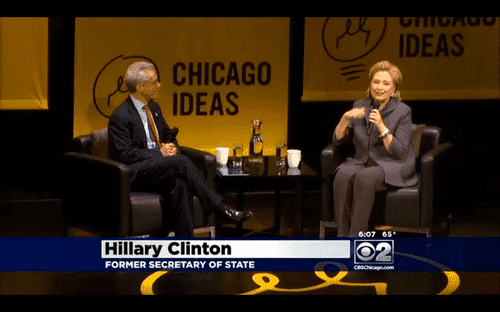 At the first speaking stop on a tour promoting her new memoir Hard Choices, Hillary Clinton spoke about her push for gay rights during her 2009-2013 tenior as Secretary of State - saying that there is still much work to be done to secure global LGBT equality and that the U.S. must lead the way.
The Chicago Sun-Times reports:
"I began to vigorously protest with governments in many parts of the world," she said. Some countries just need to be "brought along." Others: "Are just cynical. Like what Putin's doing in Russia with all these laws against the LGBT community. That is just a cynical political ploy. I've gotten into shouting matches with top Russian officials. But I realized unless there was an argument made, a platform created, we wouldn't have as strong of a case."
"We have a long way to go, I don't want to mislead anybody," Clinton said. "This is going to be an ongoing struggle and the United States must be on the front lines."
Clinton, who was joined on stage by Chicago mayor Rahm Emanuel, also spoke out for women's rights and the need to reestablish a "thriving middle class."
Check out a news report on Clinton's stop in Chicago, AFTER THE JUMP...