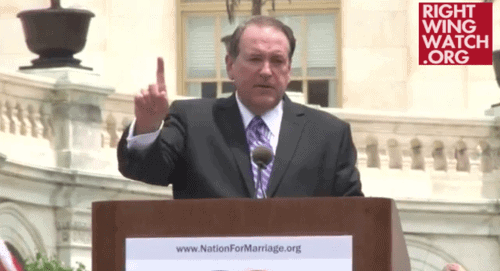 At the sparsely-attended National Organization for Marriage's March for Marriage in Washington D.C. today, Mike Huckabee helped close out the hate rally with a bit of fire and brimstone warning for anyone or any government that chooses to support LGBT equality. 
Warned Huckabee:
"There is no doubt in my mind that this country would not exist had it not been for the providential hand of God. And I'm also convinced that if we reject his hand of blessing, we will feel his hand of judgment …and it's time for us as an American people to say to our own government 'Enough of you restricting us, enough of you redefining our institutions.' We are not under an obligation to defy God in order to obey you. We are under an obligation to obey God and the law and, if necessary, to defy an institution that is out of control." 
Watch, AFTER THE JUMP...
[via Right Wing Watch]