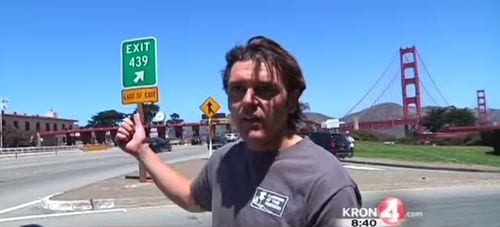 KRON-4 news' segment "People Behaving Badly," hosted by Stanley Roberts, found a perfect specimen in a motorcycle-riding jerk who blatantly disobeyed traffic laws.
Driving the wrong way down a one-way street near the entrance to the Golden Gate Bridge, the guy notices he is being filmed and proceeds to yell a string of insults and curse words at Roberts, eventually telling him, "Go f*** yourself!" Roberts replies that that might be difficult and the man screams back, "Get your boyfriend to do it for you."
In the end, police caught it all on tape and the perpetrator gets a ticket.
Check out the satisfying clip, AFTER THE JUMP...