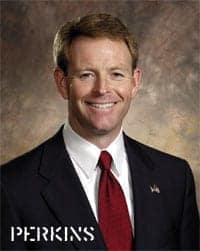 On his radio program last week, Family Research Counsel president Tony Perkins invited on Nicolle Martin – the attorney for the Colorado bakery that was repeatedly found in court to have discriminated against gay customers.
Never one to pass up on a homophobic opportunity, Perkins expressed his concerns to Martin that discrimination cases like hers are one step further down the road to the inevitable anti-Christian Holocaust.
Mused Perkins:
"I'm beginning to think, are re-education camps next? When are they going to start rolling out the boxcars to start hauling off Christians?" 
Listen, AFTER THE JUMP...
(via Right Wing Watch)