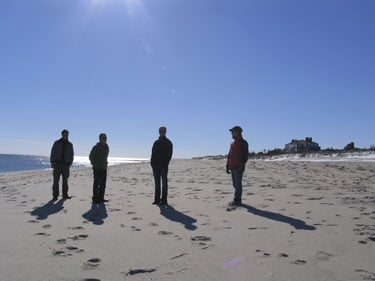 Georgica Beach near the west end of Lily Pond Lane in East Hampton, known as one of the swankiest stretches of sand on the east coast, is perfect for quiet serene walks in the winter — unless, of course, there are townie surfers around with too much time on their hands. Then, of course, you're made to know how much your presence is appreciated.
Yesterday, five of us got out of the car to take a stroll on that beach and heard some snickering from a nearby SUV with three college-aged guys in it.
When we got back to the car we found the word "SHOOB" and "SHOOBS" scrawled on the car with surf wax.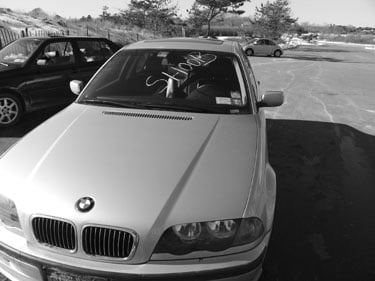 Not versed in surfer slang we weren't sure what Shoob meant, but at least it wasn't "DIE FAGS". It was a bit shocking—broad daylight, (and not a mile from Martha Stewart's compound!)—you would think vandalism and homophobia had other places to go.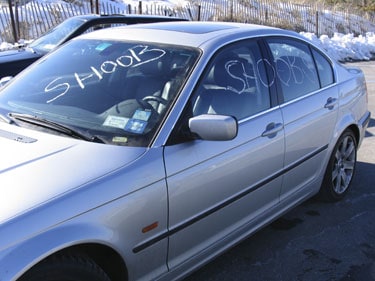 So we later look up Shoob and find that it's surfer slang for "tourist, outsider, poser" — at least that's what we could figure out. So, not specifically anti-gay, but we couldn't help thinking that had we a female in our group we wouldn't have been targeted. There was a definite snicker-at-the-homos vibe coming from the surfer SUV.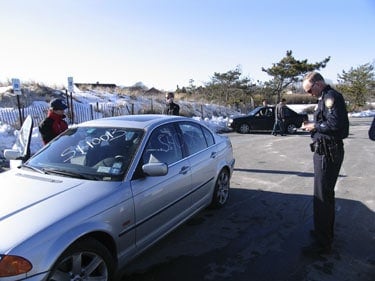 Anybody know any more about the word Shoob?