Cleveland Indians relief pitcher Kazuhito Tadano, the subject of a brief gay porn scandal back in early 2004, has been sent down to the minor leagues.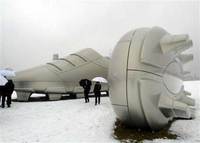 Giant shoes invade Berlin in prep for this summer's World Cup.

Vanity Fair Oscar party: the view from the help.

Kim Cattrall set to play manager of a gay rock star in forthcoming Elton John comedy.

Think tearing up those credit card applications you get in the mail will protect you from identity theft? Think again.

Vernon Robinson removes Twilight Zone ad from website. Ad still linked from yesterday's post.