Please welcome Robbie Daw, who will be penning occasional music posts for us here on Towleroad! Robbie runs his own pop music site called Chart Rigger.
"Headlines (Friendship Never Ends)," the new single from the Spice Girls, has leaked weeks ahead of its official release. Have a listen and see (or, rather, hear) what you think:

It's pleasant in that "2 Become 1" way, but after all the hype, isn't this new Spice track missing that certain zig-a-zig-ah?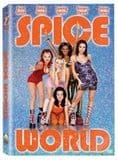 "Headlines" will be included on the Spice Girls' Greatest Hits. Last week it was reported that the British fivesome had signed a deal with Victoria's Secret for the upcoming CD to be sold exclusively in the lingerie chain's U.S. stores beginning November 13. The compilation will also be available on iTunes. Otherwise, there won't be a wide retail release in American outlets until January.
Meanwhile, tabloids are reporting that the video shoot for "Headlines," which happened on Friday, almost collapsed under the fivesome's "diva demands": "Things were very delayed. The director was tearing his hair out and threatened to walk. The girls were so tired and Emma [Bunton] was crying as the shoot just went on and on."
Additionally, Sony Home Entertainment is reissuing the 1997 film Spice World in a "special edition" DVD on November 27, a week ahead of the Girls' world tour.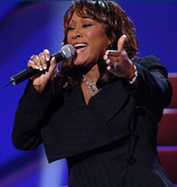 Four tracks from Kylie Minogue's upcoming album are available now for free.

Illegal download site OiNK busted by international police.

Liza's ex, David Gest, has found his inner indie rocker: "I could have given it up for a happy marriage, but I'd rather go for a drink, go dancing in Camden, listen to the Kaiser Chiefs."

Patti LaBelle (pictured right) shocks Sugababes fans at Fashion Rocks in London this past weekend.

Despite all her drama, Britney Spears' Blackout (out next week) is getting great reviews.

Jay-Z is on the road again.

Universal Pictures is adapting Chris Cross' Kurt Cobain biography, Heavier Than Heaven, into a film, with Courtney Love and her lawyer exec producing.
Depeche Mode frontman Dave Gahan's Hourglass.
Idol Carrie Underwood's sophomore album, Carnival Ride.
La Vida Es Un Ratico, from Latin superstars Juanes.
Raising Sand, a collaboration between a subdued Robert Plant and Nashville singer Alison Krauss.
Nick Cave and Warren Ellis' Music From The Motion Picture The Assasination Of Jesse James By The Coward Robert Ford.