Two women and a child taken hostage at the Hillary Clinton campaign headquarters in Rochester, New Hampshire by a man with a suspicious device strapped under his clothing have been reportedly released, according to CNN.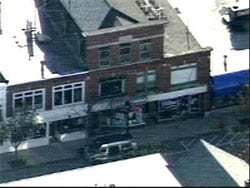 The hostage taker, reportedly a local man in his 40's with a history of mental illness who demanded to talk to Senator Clinton, is still inside at this moment and a swat team has stabilized the area.
UPDATE: The hostage taker has been identified as Lee Eisenberg.
ABC News reported that the man told his son to "watch the news."
Officials were alerted to the situation by a woman with an infant who was released early on, a witness told local station WMUR: "A young woman with a 6-month or 8-month-old infant came rushing into the store just in tears, and she said, 'You need to call 911. A man has just walked into the Clinton office, opened his coat and showed us a bomb strapped to his chest with duct tape."
Hillary Clinton is in Virginia and canceled a 3 am campaign appearance because of the situation. Her campaign released this statement: "There is an ongoing situation in our Rochester, N.H. office. We are in close contact with state and local authorities and are acting at their direction."