A judge today set a bond of $25,000 and ordered home detention for 19-year-old Stephen Andrew Moller, who delivered a lethal punch to Sean William Kennedy last May outside Brew's Bar in Greenville, South Carolina. Kennedy fell to the ground and died of his injuries 17 hours later.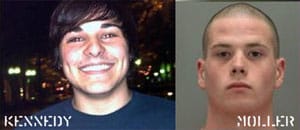 The arrest warrant for Moller said "investigators believe the assault was due to the victim's sexual orientation" GreenvilleOnline reported shortly after Moller's arrest.
"Sheriff's Office investigator Paul Silvaggio testified today in Greenville County Circuit Court that after an 'extensive investigation,' he determined that Kennedy's homosexuality did not motivate the attack," GreenvilleOnline reports:
"Moller's attorney Ryan L. Beasley said Moller, who has been incarcerated since May, would have to live with this the rest of his life. Kennedy's mother Elke Kennedy addressed the court, saying 'At least he gets to live. My son won't be home for Christmas.' She characterized Moller as a 'violent man,' and has previously objected to the reduction in charge from murder to involuntary manslaughter, which carries a maximum sentence of five years. She has said that her son was openly gay and she has advocated for the passage of hate-crime laws that would apply to sexual orientation. Thirteenth Circuit Solicitor Bob Ariail has said the charge of involuntary manslaughter is not sufficient, but 'correct under the law.' Beasley said if released, Moller would live with his mother, that he had turned himself in to police, and that he isn't a danger to society. Couch ordered that Moller may go to work, may see a lawyer or doctor, and may have no contact with the victim's family."
A disappointing end to a tragic, unnecessary hateful event.
You may have missed…
SC Hate Crime: Mother of Sean Kennedy Speaks Out [tr]