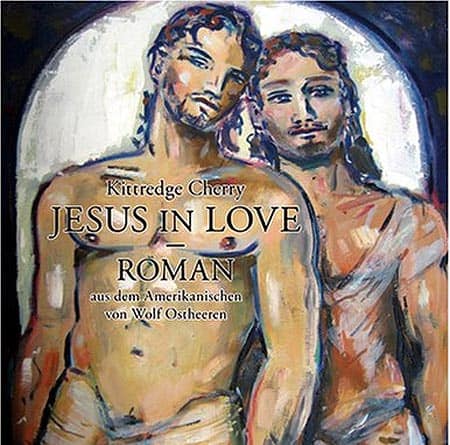 It was about this time last year that I mentioned Kittredge Cherry's book Jesus in Love, a novel about a gay Jesus Christ. Well, here comes Christmas again and controversy has once again supposedly erupted over the newly released cover of the German translation of the book, which, according to the author "shows a near-naked Jesus and John the Baptist rising from the water together after Christ's baptism. The men's genitals shine through their wet clothes. A shared halo affirms the union of body and spirit."
Cherry says the cover has "sparked international debate" but after searching high and low on the internet the only debate I could find about the cover was between Cherry and her PR person (who also appears to be Cherry). Go figure. Perhaps Cherry's intent was to get the attention of a few bloggers whose posts on the topic might send the Catholic League's Bill Donohue into convulsions.
Anyway, here's part of the cover, if you'd like to check out the full monty, see AFTER THE JUMP…
View the full=size cover image here.