Pressure from anti-gay neighbors prompted the landlord of a building in Nepal housing an AIDS hospice run by the gay activist group Blue Diamond Society and sponsored by the Elton John AIDS foundation to throw 12 men diagnosed with AIDS out on the street. Four of those men, who come mostly from the poor India/Nepal border region called the Terai Plains, are terminally ill and had to be carried because they are unable to walk, IANS reports: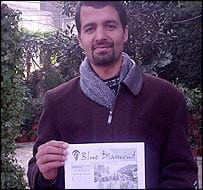 "Just as Nepal's sexual minorities were celebrating the community's first participation in a national election as contestants, the AIDS hospice run in Kathmandu for homosexuals by Nepal's pioneer gay rights organisation was closed down Thursday night by the landlord after pressure from the neighbours…'Since the hospice was started two-and-a-half years ago, we were forced to move it four times,' said Sunil Pant (pictured), founder of the society and a poll contestant himself. 'Though we are prompt in paying the rent, the landlord comes under pressure from his neighbours to throw us out once it becomes known that there are AIDS patients in the hospice.' On Thursday, the eve of Holi celebrations in Nepal, the society's members were busy moving x-ray machines, ambulances and the patients to its own office, where the main hall was converted into an emergency hospital."
No human rights groups intervened with the landlord on the patients' behalf.
There is some hope with the upcoming election that the stigmatization the gay community faces in Nepal will ease: "For the first time in Nepal's history, 12 gays, lesbians and eunuchs are in the poll fray, with six of them having been fielded by a minor communist party. Two of the biggest parties in the country, Prime Minister Girija Prasad Koirala's Nepali Congress as well as the Maoists, addressed the hitherto excluded community in their election manifestos for the first time, pledging to address their problems."
Anti-gay bias evicts dying AIDS patients in Nepal [IANS]
Recently
Five Gay Men in Symbolic Run for Office in Nepal [tr]
Nepal's Top Court Orders Govt to Protect Gays [tr]
Elton John: Nepal Statements, Fashion Statements [tr]
Ignorance Halts Nepalese HIV/AIDS Program Funded by Elton John [tr]